It has been almost 2 years since I got my G1. Still love it.
One of the reasons I love my G1/Android is the customization, especially to the "home" screen. There is a new app called slidescreen which is a home replacement. It is an "entereprise" style home screen, meaning it shows all the latest updates in your personal life on your home screen.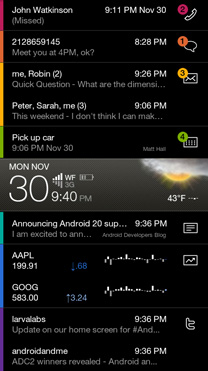 What you see above is what your home screen will look like. The reason it is called slidescreen is the bar in the middle slides up and down. The middle bar separates your content. On the top you have messages (text and gmail), Google calendar appointments, and phone calls. The bottom half has Google Stocks, Google Reader, twitter, and most recently Facebook.
The middle bar shows the weather of your current location (and future forecast, battery life, time, date.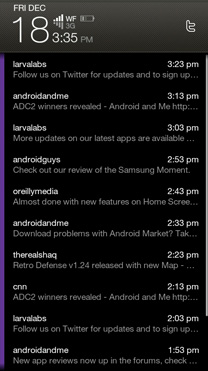 Slide the bar to the top and it filters to show all content from the section.
This is still a new app, so there are lots of new things to come, and bugs to work out. There is a free version in Android Market, and a paid version as well.